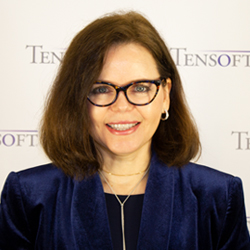 As many of you know, Tensoft sells Microsoft Dynamics 365 Business Central as well as uses it internally to manage financials. As an accountant at Tensoft, I use Microsoft Dynamics 365 Business Central daily. Some of my responsibilities include processing vendor invoices and payments, as well as employee expense reports, issuing credit and debit memos for customer and vendors, preparing sales and use tax returns, processing payroll, performing reconciliations of various accounts and manage balance sheet and profit/loss statements.
Having used Dynamics GP in the past, I can easily compare it to Dynamics 365 Business Central and provide some insight into the key differences. While both the Microsoft accounting solutions share similar features, they are also unique in ways that can make a big difference for some businesses.
Microsoft Great Plains is not a true cloud-based software system, whereas Dynamics 365 Business Central is truly a cloud-based solution. It is built for mobility and is accessible at any time on any device simultaneously. This is important in the world of remote work nowadays.
Dynamics 365 Business Central integrates seamlessly with other Microsoft products such as Excel, Outlook and Word. Being an accountant, the integration with Excel matters to me the most. In Dynamics GP this integration was quite difficult whereas, in Dynamics 365 Business Central it is very easy. It is just a click of a button, and all the reports are available in Excel.
There are more features in Dynamics 365 Business Central compared to Dynamics GP such as dimensional chart of accounts, many financial reporting, and search capabilities. It is very easy to use, modify and customize.
Even though Microsoft Great Plains has been around for over 20 years and Microsoft continues to support its customers, its focus has shifted on the future of Dynamics 365 Business Central. The Dynamics 365 Business Central customers are always on the latest version of the solution. There are two major automatic updates in the year, and they are free. With Dynamics GP, the upgrades cost additional money and time. Dynamics 365 Business Central is predictable, scalable, and cost-efficient whereas, Dynamics GP is too expensive on a yearly basis.
From my experience, Dynamics 365 Business Central is a great accounting solution. The adoption of this solution was very easy with a little bit of training. If you are looking to migrate from Dynamics GP to Dynamics 365 Business Central, here are some great tips shared by Tensoft's Dynamics 365 Business Central expert, Jason Ochipa.
To learn more about Tensoft's expertise, visit our website or contact us today!