Last year, we covered a lot of features in Dynamics 365 Business Central, from approval user setup to consolidation to reporting. To begin the new year, let's go back to the basics and revisit the 'Settings' in Dynamics 365 Business Central.
Under Settings, the two main things that most people use are My Settings and Personalize.
My Settings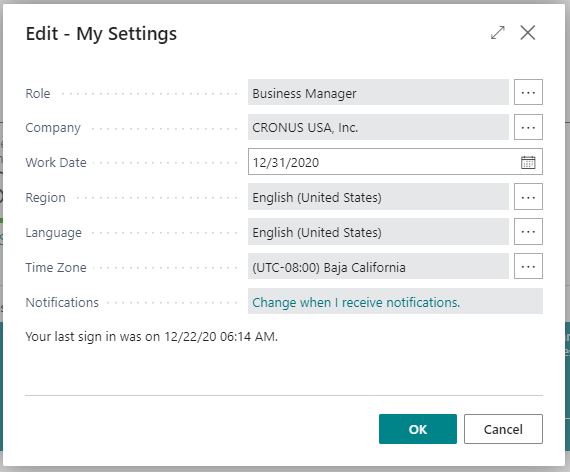 Role:
The Role setting controls the look of your Homepage in Business Central. The majority of our customers – primarily folks in accounting roles who have Full User rather than Team Member licenses – will want to select Accountant or Business Manager. With the Business Manager role, you can create an invoice or purchase order, or a transaction quickly with the Actions on the Home Page. If you are an accountant who will be booking receivables and deposits, running trial balances, you may prefer the Accountant role. We usually recommend switching between the two to see which one works best for you.
For more details on roles and permission sets, click here.
Company:
On the Homepage, you can see the company you're logged into in the upper left-hand corner. The first thing you'll want to know is how to move between the companies. If you click on Company, you'll see all the companies that you have access to in Business Central. You can switch to another Company here. Remember that CRONUS USA, Inc. is just the demo company that comes with Microsoft Dynamics as an example. It's already pre-configured, so you can see what another similar company might look like once it's fully set up. It has customers, vendors, journal entries, etc. so you can safely play around in CRONUS USA to get familiar with the interface before you dive into your Live Company.
Work Date:
The work date is sort of a default date for transactions, other than today's date. It is useful when you're closing the books and you don't want to accidentally post the transaction to the wrong period.
For example, if you're booking entries to the last day of the month in December (you're closing the books for December) and you don't want to accidentally post something in January, you can change your Work Date to December 31st. This would default all your transactions to December 31st.
Personalize
With this feature you can hide, add or move certain sections or fields of the screen, create shortcuts and organize it based on your liking. The idea is to get things in position where you can get to them in the fewest number of clicks and it just feels intuitive. Watch this demo to learn more on personalization in Business Central.
Case Study
Given the numerous benefits of Dynamics 365 Business Central, you will not be surprised to learn that Tensoft uses it too. Watch our case study here.
To learn more about Dynamics 365 Business Central, contact us today!